Argentina detailed geographic map
Geography map of Argentina
Map of Argentina with brief information about the country. Large easy to read map of Argentina with the historical and geographical information about Argentina's second largest country in South America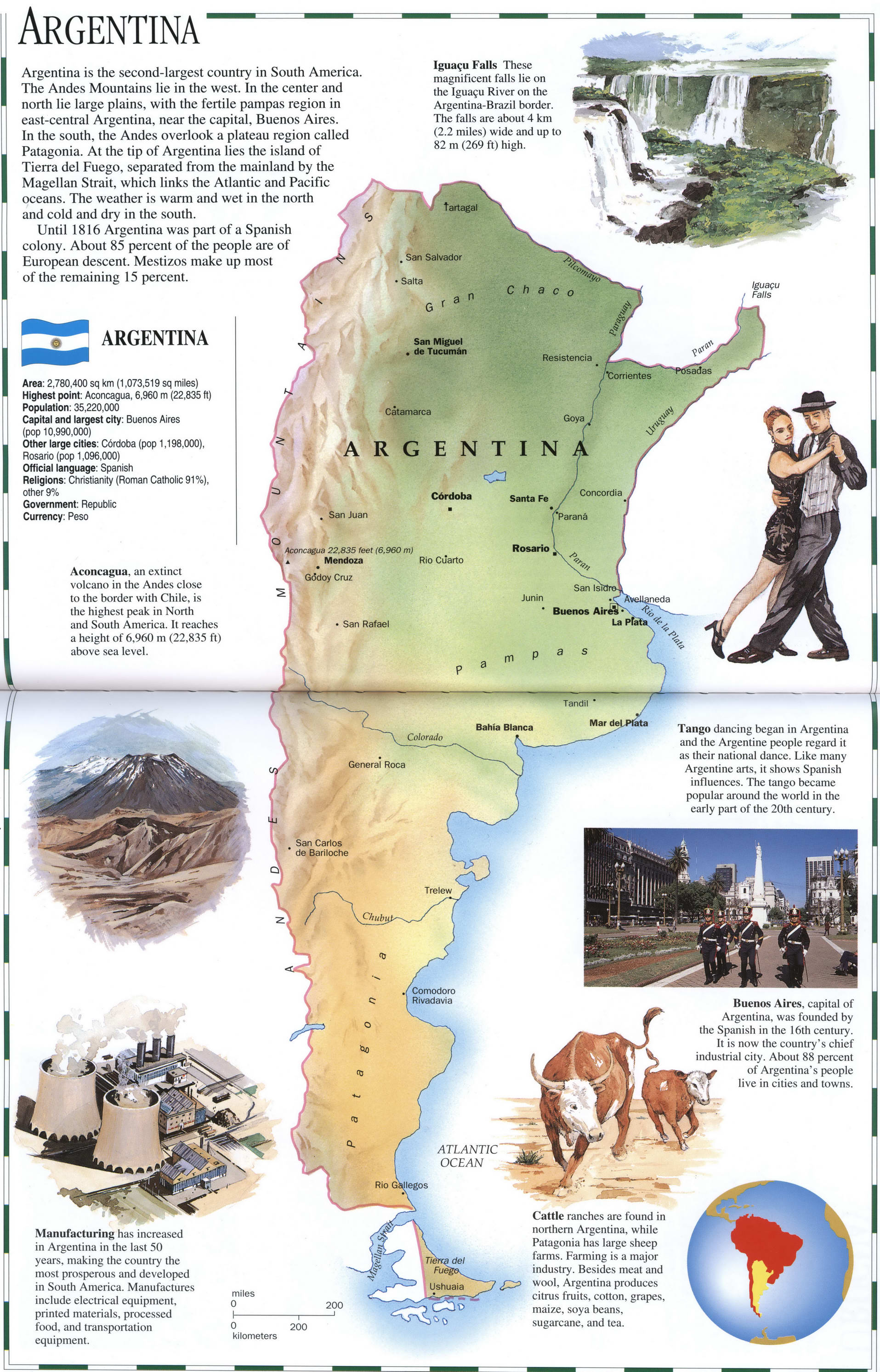 Argentina is the second-largest country in South America. The Andes Mountains lie in the west. In the center and north lie large plains, with the fertile pampas region in east-central Argentina, near the capital. Buenos Aires. In the south, the Andes overlook a plateau region called Patagonia. At the tip of Argentina lies the island of Ticrra del Fucgo, separated from the mainland by the Magellan Strait, which links the Atlantic and Pacific oceans. The weather is warm and wet in the north and cold and dry in the south.
Until 1816 Argentina was part of a Spanish colony. About 85 percent of the people arc of European descent. Mestizos make up most of the remaining 15 percent.
Area: 2.780.400 sq km (1.073,519 sq miles) Highest point: Aconcagua. 6,960 m (22,835 ft) Population: 35,220.000 Capital and largest city: Buenos Aires (pop 10,990,000)
Other large cities: Cordoba (pop 1,198,000), Rosario (pop 1,096,000)
Official language: Spanish
Religions: Christianity (Roman Catholic 91 %), other 9%
Government: Republic Currency: Peso
Aconcagua, an extinct volcano in the Andes close to the border with Chile, is the highest peak in North and South America. It reaches a height of 6,960 m (22,835 ft) above sea level.
Iguacu Falls These magnificent falls lie on the Iguacu River on the Argentina-Brazil border. The falls are about 4 km (2.2 miles) wide and up to 82 m (269 ft) high.
Tango dancing began in Argentina and the Argentine people regard it as (heir national dance. Like many Argentine arts, it shows Spanish influences. The tango became popular around the world in the early pan of the 20th century.
Buenos Aires, capital of Argentina, was founded by the Spanish in the 16th century.
It is now the country's chief industrial city. About 88 percent of Argentina's people live in cities and towns.
Manufacturing has increased in Argentina in the last 50 years, making the country the most prosperous and developed in South America. Manufactures include electrical equipment, printed materials, processed and transportation equipment.
Cattle ranches are found in northern Argentina, while Patagonia has large sheep farms Farming is a major industry. Besides meat and wool. Argentina produces citrus fruits, cotton, grapes, maize, soya Ivans, sugarcane, and lea.